Campers come in from all over the country and internationally to experience Cactus Canyon's allure to the peaceful and natural surroundings here in the Ozark mountains. Campers have called it the most peaceful place on earth to be at with no hype, no stress with friendly and courteous campers.
Cactus Canyon Campground, the "Canyon", opened in 1999 and there began the humble beginnings of a campground that soon rose to be the largest men's campground in the United States because of a need for something different for the men's community. There are other options out there that fill a need and we support each of them. However, the Canyon is the largest in acreage and has great features that few others have because of it's size. It is comprised of over 700+ acres of woods, streams and prairies, a naturalist's paradise. If you are into hiking, check out the many hiking trails that wonder the acreage through the valleys with streams, waterfalls and natural pools that you can take a dip in; to hills to climb that take you up cleared roads to the prairie tops over the Canyon and to Big Sky Camp; to stroll on nicely mowed paths in the prairies and woods. We offer many different opportunities for you to enjoy the outdoor excitement here at the Canyon from camping to hiking; to floating and to fishing the local streams.

Our accommodations include many primitive campsites that are available in the woods where you can be alone or other sites where you can be close to others, either way there is plenty of space for you to pitch a tent. There are campsites along the creek, on the ridge, some in the in the meadow and others are wooded camping sites. Also if you wish something of comforts such as electric and water at your site, we have that too. If you are an RVer we have RV sites available that include electric, water and sewer some with 30 amp and others with 50 amp service. We do have some in the valley portion of the campground and some in the new part of the Canyon called "Big Sky". If you do not have any set up, we have cabins or sleeping rooms available. There is something for everyone here at the Canyon. Please remember that the Canyon keeps the idea of a campground present at all times.
A twist to the Canyon (like no other) is that due to our seclusion in the hills, trees and off the beaten path, the entire campground is clothing optional, where the choice to wear something, or nothing at all, is yours. All the better to be al natural! It is all part of being comfortable.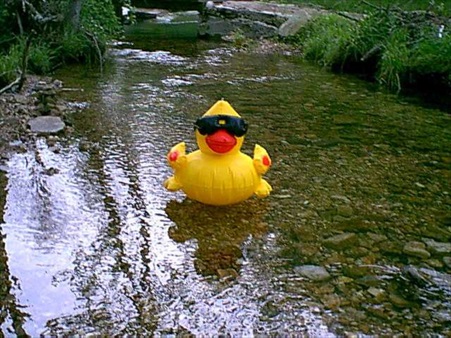 Speaking of being comfortable, we have a two dogs maximum per site limit. All dogs must not be barkers or biters. We require that all dogs must be leashed during their stay here at the "Canyon" and that all dog poop is cleaned up and disposed of properly. These rules will be strictly enforced and anyone not abiding by these rules will be asked to remove their dogs from the "Canyon".
In addition, for your comfort we have hot showers and flush toilets in three parts of the campground that are available.

The Canyon RV campsites are separate from the tenting area. They are a short distance from the all event areas. We have 30 and 50 amp service for RVs with sewer, water and electric hookups available. In addition we have the Ridge portion of the campground, called Big Sky open for tenting, improved tenting sites and RV sites with 30 and 50 amp service. Click here to see Big Sky.
Map of the Canyon

Because Cactus Canyon Campground is in a valley, the campground is linear. The map is approximations of the locations of the installations here.

Tent camping carea with the individual sleeping rooms called Dorm Rooms

Cabins and hot tub / firepit area.

RV sites listed as RV Seasonal are not available for rent RV's Sites in the 200's are 30 amp service with water and sewer connections

RV sites listed as RV Seasonal are not available for rent RV's Sites in the 100's are 30 and 50 amp service with water and sewer connections

If you are interested in becoming a Seasonal Camper. Please let us know. We have sites open!

If you are interested in leaving your trailer for the summer or for just a bit at the Canyon, please inquire with staff as to availability and cost.

Map of Big Sky Campground

RV sites all have 30 and 50 amp service with water and sewer connections
On site attractions include: a large 26 X 52 X 4.5 foot solar heated swimming pool, 10 x 10 foot hot tub, dry sauna, creek swimming, (croquet, bocce ball available upon request), hiking on the 720 acres and many theme weekend parties.
Off site attractions include: float trips kayaking on the Bryant Creek and North Fork of the White River, canoeing, trout and bass fishing, Rockbridge Trout Ranch, Trappist Monastery, Hodgson Mill, and other water mills tours and springs, antique shopping, Laura Ingalls Wilder Home, state forests and the Glade Top Trail for fall colors, local fairs, the Ava Square Saturday Grower's Market, and the Fox Trotter's Association. Or visit the Ava Chamber of Commerce web page and be sure to check out the local events and be sure to check out the Ozarks web page too for area fishing, driving tours, horseback riding and more!

Cactus Canyon Campground weather is usually about 10-15 degrees warmer on sunny days than the weather that is forecasted for Springfield or Ava. Plus, we cool down about 5 - 10 degrees cooler at night then those locations.
Cactus Canyon Campground currently does not have any employment opportunities available. If you would like to be contacted for this employment opportunity in the future, please Click here.
Call us at 417-683-9199